University of Minnesota Baseball's Dairy Queen Classic Tournament marks 30th year, while making its U.S. Bank Stadium Debut.
Thursday |

Mar.

2

, 2017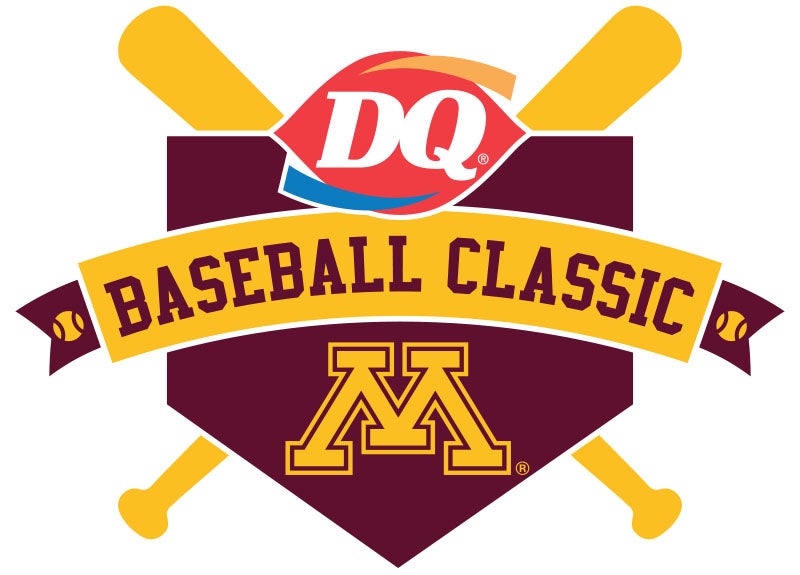 Minneapolis, Minn. (Thursday, March 2, 2017) – The Dairy Queen Classic returns for its 30th year as Minnesota hosts Hawaii, Iowa and Oral Roberts at U.S. Bank Stadium for the tournament.
After a four-year hiatus the Dairy Queen classic returns to Minneapolis as the tournament will take place in U.S. Bank Stadium. The return of the tournament also marks the 12th year that Dairy Queen has been the title sponsor which started in the Hubert H. Humphrey Metrodome. The Dairy Queen Classic has had 145 Major League players participate in the tournament and was one of the first televised regular-season college baseball games on ESPN in 1989.
Dairy Queen Classic Game Schedule
Friday, March 3
Iowa vs Hawaii – 12:15 p.m.
Minnesota vs Oral Roberts – 6:30 p.m.
Saturday, March 4 (Kid's Day)
Iowa vs Oral Roberts – 12 p.m.
Minnesota vs Hawaii – 6:30 p.m.
*A kid's clinic will begin at 3:30 p.m. on Saturday, March 4 and will take place on the field. The clinic is free with the purchase of a ticket to the Gopher game that night.
Sunday, March 5 (Minnesota Day)
Hawaii vs Oral Roberts – 11 a.m.
Minnesota vs Iowa – 3 p.m.
*We celebrate the University of Minnesota on the final day of the tournament as the Gophers take on Iowa. Students and facility/staff get in free with one guest with their U-Card.
Tickets are available at www.ticketmaster.com, the U.S. Bank Stadium Ticket Office and all Ticketmaster locations. A $20 family 4-Pack voucher will be available for redemption the day of the event, offering $20 (plus processing fees, limited supply only, other restrictions may apply) for four tickets to any of the DQ Baseball Classic games. To celebrate the Dairy Queen Classic there will be vouchers for free dilly bars during the tournament, while supplies last.
More than 135 baseball games are currently scheduled to play at U.S. Bank Stadium this February in addition to the Gophers schedule with dates through April 2017. Tickets for other high school and baseball games will be available only at entry for the games, located at the Lower Pentair Gate of U.S. Bank Stadium along Sixth Street South. Tickets for other college and high school baseball games are not available for purchase online. More information on other college and high school games can be found at here.