SMG and U.S. Bank Stadium Receive 2016 Placement Partners "Employer of the Year" Award
Wednesday |

May

10

, 2017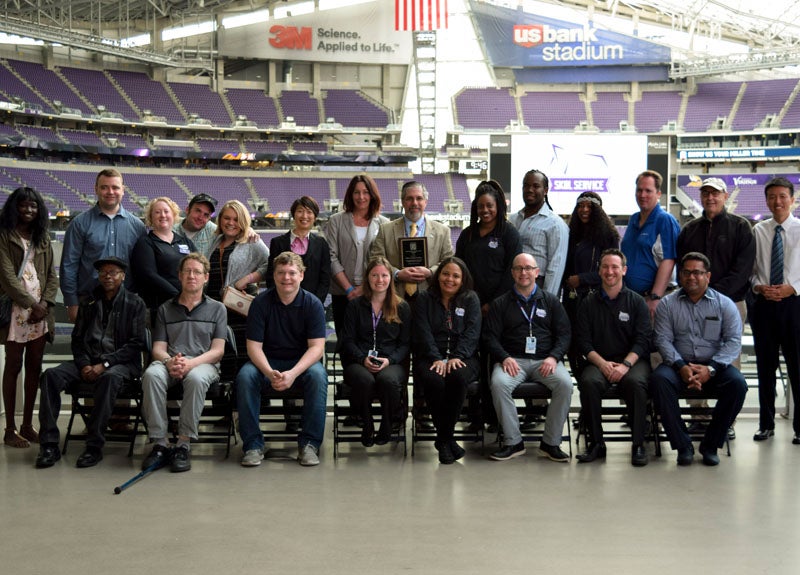 Minneapolis, MN (May 9, 2017) – Placement Partners announced SMG and U.S. Bank Stadium as their selection for the 2016 Employer of the Year Award this morning at the U.S. Bank Stadium SKOL Service Draft Day Hiring Fair. This annual award recognizes an employer with a strong commitment to breaking down employment barriers for adults with disabilities.
"It was a great honor to recognize all of the hiring managers at U.S. Bank Stadium with the 2016 Placement Partners Employer of the Year Award. This award shows the importance of their role in supporting us to achieve our mission in helping people with disabilities," says Jack Chen, Executive Director at Placement Partners. "We certainly can't do our job without the support of our employer partners."
The award was presented during the second annual SKOL Service Draft Day, a spring hiring fair to recruit part-time employees for the upcoming season of events. U.S. Bank Stadium partners are searching for over 1,000 motivated and outgoing part-time employees to fill roles including guest services representatives, cleaning services attendants, security, retail, concessions, culinary, money room attendants, food service hourly supervisors and seasonal managers. In addition to being the home of the Minnesota Vikings and Super Bowl LII, U.S. Bank Stadium part-time employees will also support the summer X Games, Guns N' Roses, Coldplay and Justin Bieber as part of some of this season's major events.
"SMG is pleased to accept the Placement Partners 2016 Employer of the Year Award," says Patrick Talty, General Manager for SMG at U.S. Bank Stadium. "This is truly a collective effort across all departments. We're committed to hiring a diverse workforce that represents the fabric of Minnesota. We look forward to continued success in this partnership for years to come."