MONSTER JAM® TO ROAR BACK TO MINNEAPOLIS
Tuesday |

Sep.

12

, 2017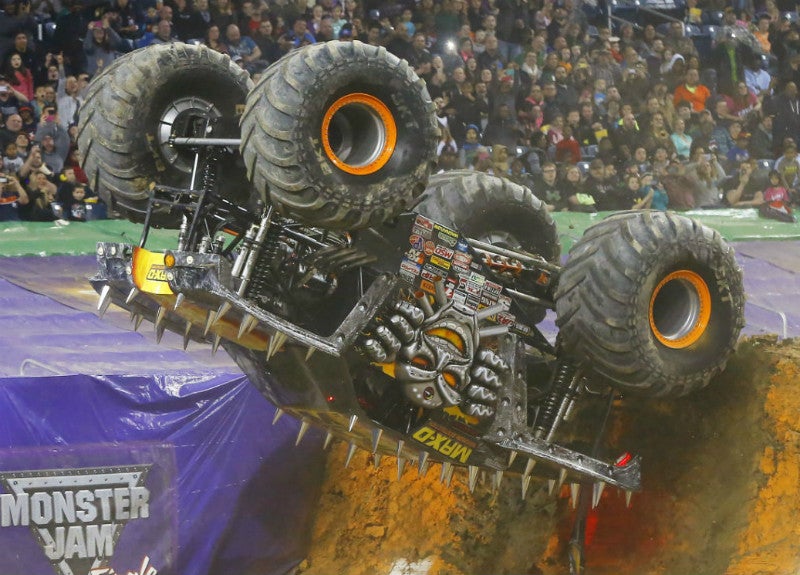 Minneapolis (Sept. 12, 2017) – Feld Entertainment, the worldwide leader in live family entertainment, announced today that tickets for Monster Jam® at U.S. Bank Stadium in Minneapolis on Saturday, Dec. 2 will go on sale on Tuesday, Sept. 19 at 10 a.m. The new season will bring motorsport fans to the edge of their seats with adrenaline-charged, high-flying, four-wheel excitement that is fun for the entire family.
The Minneapolis event's roster of drivers and trucks is scheduled to include world-class male and female drivers competing for the same championship on the same track, such as*: Avenger driven by Jim Koehler; Brutus driven by Brad Allen; El Toro Loco driven by Minnesota's own Becky McDonough; Grave Digger driven by Morgan Kane; Lucas Oil Crusader driven by Linsey Weenk; Max-D driven by Tom Meents; Mutant driven by Steven Sims; Over Bored driven by Jamey Garner; Soldier Fortune driven by Tony Ochs; Son-uva Digger driven by Ryan Anderson; Team Hot Wheels driven by Scott Buetow; VP Racing Fuels' Mad Scientist driven by Lee O'Donnell; Wonder Woman (Minneapolis premiere!) driven by Linsey Read; and Zombie driven by Devin Jones.
Unexpected, unscripted and unforgettable, Monster Jam takes center stage in the world's most iconic venues like U.S. Bank Stadium sporting meticulously manicured dirt tracks created with the sole purpose of pushing these perfectly engineered, larger-than-life trucks to the limit.
Monster Jam events are affordably priced for the whole family with seats starting at $15. For details and to purchase tickets, log onto MonsterJam.com.
New for 2018, following racing events, fans in every Monster Jam city will have the chance to vote for the truck winner in the two-wheel and freestyle competitions by real-time, in-stadium fan voting on their smartphones.
Also new in 2018: Pit Party Early Access passes are available for purchase with an event ticket. The upgraded pass provides early entry in to the Pit Party on December 2 from 1:30 – 2:30 p.m. and the opportunity to get up close and personal to the Monster Jam trucks and drivers. It also will serve as a regular Pit Party pass from 2:30 – 5:30 p.m. with the general public. Monster Jam drivers are only in the Pit Party signing autographs until 5 p.m.
For more information on a Monster Jam near you, please log onto MonsterJam.com or follow us via our social channels: Facebook, Twitter, Instagram and YouTube.