ASM GLOBAL NAMES JOHN DRUM AS U.S. BANK STADIUM'S GENERAL MANAGER
Tuesday |

Dec.

1

, 2020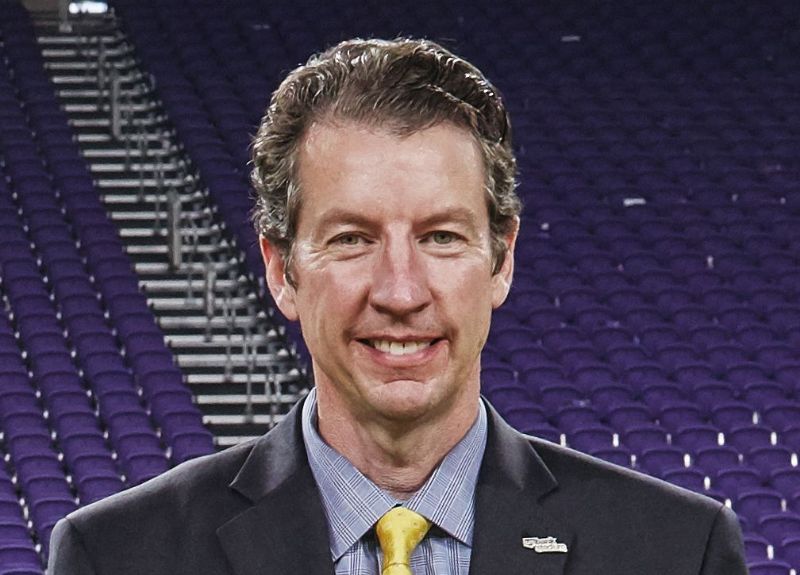 Minneapolis, MN (December 1, 2020) – ASM Global is pleased to announce that John Drum has been named as U.S. Bank Stadium's general manager. Drum was selected for the role after serving three years as the stadium's assistant general manager of operations and most recently as the interim general manager. He brings over 24 years of experience in sports and entertainment to the executive leadership role.
"I am humbled and honored to lead the incredible staff at U.S. Bank Stadium, one of the world's greatest sports venues," said John Drum, General Manager for ASM Global at U.S. Bank Stadium. "To my family, mentors and peers that have prepared me for this opportunity, thank you for your guidance, wisdom and support over the many years. These are challenging times for all in the sports and entertainment industry, but we know brighter days are ahead. I look forward to reopening the gates in due time to create more memorable experiences for everyone at U.S. Bank Stadium."
In June of 2017, John Drum joined ASM Global, a worldwide venue management company and the Stadium's operator, as an integral member of the U.S. Bank Stadium executive team. Prior to serving as interim general manager, John Drum oversaw stadium operations including event services, facility management, security, IT, tours and ASM Global's in-house cleaning services and guest experience departments.
"Throughout John Drum's tenure, the Stadium has excelled in the international spotlight for outstanding efforts in daily operations and world-class events," said Michael Vekich, Chair of the Minnesota Sports Facilities Authority. "On behalf of the Minnesota Sports Facilities Authority, we look forward to John's leadership and the Stadium's continued excellence in performance."
John Drum has been a part of hosting four seasons of Minnesota Vikings football, Super Bowl LII, the 2019 NCAA Men's Final Four and three years of ESPN's X Games at U.S. Bank Stadium. During this time, U.S. Bank Stadium welcomed over four million guests at nearly 700 events, was honored with the International Association of Venue Manager's Venue Excellence Award and became the first professional sports stadium to achieve LEED Platinum for Operations and Maintenance.
"We are fortunate to have someone of John's caliber and experience to lead our team at U.S. Bank Stadium. John has a proven track record and has demonstrated strong leadership skills in his time as interim general manager," said Leonard Bonacci, Regional Vice President of Stadiums and Arenas for ASM Global. "I look forward to working with John and the rest of the ASM Global team to once again create the amazing experiences that Minnesotans have come to know and expect."
Prior to moving to Minnesota, John served twelve years with the Arizona Cardinals, most recently as their vice president of stadium operations for University of Phoenix Stadium (now known as State Farm Stadium). During his tenure, they hosted two Super Bowls (XLII & XLIX), the 2015 Pro Bowl, the 2009 NCAA Men's Final Four, and two BCS National Championship Games (2007 & 2011). Drum was an integral member of the Cardinals organization for the opening of University of Phoenix Stadium in 2006.
"The Minnesota Vikings congratulate John on this well-deserved promotion and look forward to our continued work together," said Vikings Chief Operating Officer Andrew Miller. "ASM Global has been an exceptional partner of the Vikings, in large part because of John's commitment over the last several years to make U.S. Bank Stadium one of the greatest sports venues in the world. John's leadership during the COVID pandemic has been critical in helping us safely host home games with the health of players, coaches and game day staff as the top priority."
In addition to his work in NFL stadiums, Drum was part of the Anaheim Angels organization for nine seasons, including the 2002 World Series season, and grew to become the director of stadium operations at Angel Stadium.
Drum earned his Master of Sports Administration and Facility Management degree and Bachelor of Science degree from Ohio University. He is an active member of the International Association of Venue Managers (IAVM). John lives in Woodbury with his wife, Mandi, and their three children.