Sustainability at U.S. Bank Stadium
U.S. Bank Stadium aims to reduce its carbon footprint in all areas of operations including but not limited to: water reduction, waste reduction/diversion, energy efficiency, sustainable purchasing, and alternative transportation promotion. U.S. Bank Stadium aims to become a zero-waste facility, where 90% of all waste is either compostable or recyclable.​
What U.S. Bank Stadium is doing to minimize its carbon footprint.
Water
Low flow fixtures are used throughout the stadium. These minimize the amount of water used for each flush.
We closely monitor all our mechanical systems to ensure they are running efficiently and using the correct amount of water.
Storm water collection

USBS collects all water runoff from the roof and diverts it to a retention system on the SE side of the stadium. The system not only stores the water, it releases it slowly over time into the surrounding soil via the perforations in the pipe. This reduces the amount of runoff leaving the site, recharges the ground water supply, and eliminates the need to pipe the water into the city's sewer system.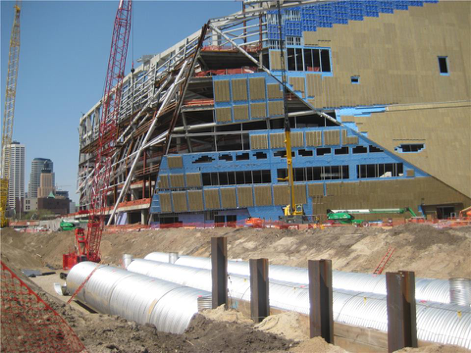 Waste
U.S. Bank Stadium has generated nearly 1000 tons of waste in the first year of operations, which is roughly the weight of 197 African Elephants, or to put it in stadium terms, over 9 million hotdogs. To minimize the stadium's waste, the stadium uses the following waste hierarchy as a guide.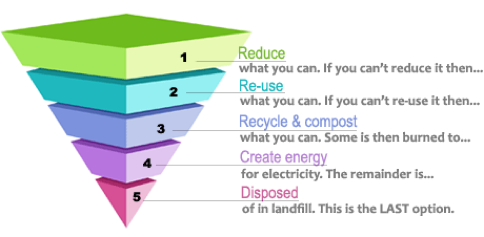 Because we are a business that makes money by selling food, beverages, merch etc. waste will always be generated, and due to the nature of a sports facility, reusable options, especially in concessions is not always feasible. As a result, the stadium focuses mainly on recycling and composting, the third tier in the waste hierarchy.
Compost/Recycling/Trash Collection/Disposal

USBS has implemented a stadium-wide compost program that aims to help divert as much waste from the Hennepin Energy Recovery Center, an incinerator that handles the true trash waste that is generated from the stadium. Compostable products can look almost identical to non-compostable products, but instead of using a plastic or wax coating, a compostable corn-based product is used. Many of the stadiums compostable products will be labeled in one of three ways:

They will have a BPI logo somewhere on the product
They will have a green strip that says, "Compostable"
They will have an Eco-products leaf on them

When compost is collected, it must have zero contamination. As a result, it is vital that all staff dispose of their waste properly and hold their teammates accountable for not following the waste guidelines.
After the compost is collected and inspected at the Hennepin County transfer station, it is taken to the compost facility in Rosemount, MN where it goes through the composting process. Depending on numerous scientific factors, the compost pile can take anywhere from 1-8 months to fully cure, yielding a soil-like compost material that can be used for many functions like gardening, landscaping, and more!

Recycling collection/disposal

As a stadium that can go through thousands of aluminum cans and plastic bottles every event. Last season, the stadium collected nearly 147 tons of recycling, roughly 15% of the overall total. With the help of waste signage, the recycling rate is expected to increase.
To help increase our incinerator diversion rate, the stadium recycles aluminum, glass, cardboard, clean plastic containers, and clean metal containers. Like compost contamination is unacceptable, and items like soft plastic (saran wrap), Styrofoam, and wrappers cannot be recycled.
These recycled items are sorted at the Hennepin County transfer station in Brooklyn Park to be reused repeatedly until their useful life is reached.

Trash collection/disposal

After all the compostable and recyclable items are collected, the remainder is the true trash items. While most true trash items are being phased out of operations, there are still going to be some trash in the stadium. These items will be things like chip bags, Styrofoam, soft plastic (saran wrap), diapers, and wax coated items.
• All trash at the stadium is taken to the Hennepin Energy Recovery center where it is incinerated to create steam. The steam is then used to generate energy that is used through buildings and offices downtown. While incineration is still a better option than landfilling, it still releases pollutants into the air. As a result, U.S. Bank Stadium aims to eliminate this waste stream, which helps reduce air pollution, thus reducing our overall carbon footprint.
Energy
Because U.S. Bank Stadium is an indoor stadium, the amount of space to keep warm or cool increases significantly from an outdoor stadium. As a result, energy costs account for a significant amount of the utility bills. To date, the stadium has used 2.2 million kWh of electricity, which is enough to power 2.2 million 100 W light bulbs for 10 hours. Since energy cost contribute to a large percentage of operation costs, U.S. Bank Stadium aims to decrease usage in all many aspects of operations. For a further breakdown of these energy efficiency and reduction initiatives, see below.
LED Lighting

The majority of the standard lighting located throughout the hallways, and corridors are energy efficient LED's. These LED's not only have a longer useful life, but use a fraction of the energy over their traditional alternatives. To light the seating bowl and playing field, U.S. Bank Stadium uses high performance LED stadium lights from Ephesus Lighting. These high-performance LED's are said to use 75% less energy than traditional halide alternatives, and can be switched on or off and the flick of a switch.

Heating and Cooling

Being in a cold-climate, building an indoor stadium was a key consideration for the State, City, and the Vikings, however, because the entire stadium is indoors, the amount of space that needs to be heated or cooled rose exponentially. The diagrams below breakdown the principles behind cooling and heating the stadium. While there are air conditioners and heaters, the stadium relies mainly on the air that is already present throughout the facility. This helps decrease energy that would be used to cool or heat the stadium. Moreover, in the winter months during large events, the amount of people in the stadium provide enough body heat to keep the stadium very warm. Detailed tracking from Johnson Controls gives us real time data of the temperatures, humidity, and other factors that affect the comfortability in the stadium. By using this real-time data, the operations team can make adjustments that can not only save loads of energy, but also help to cut costs.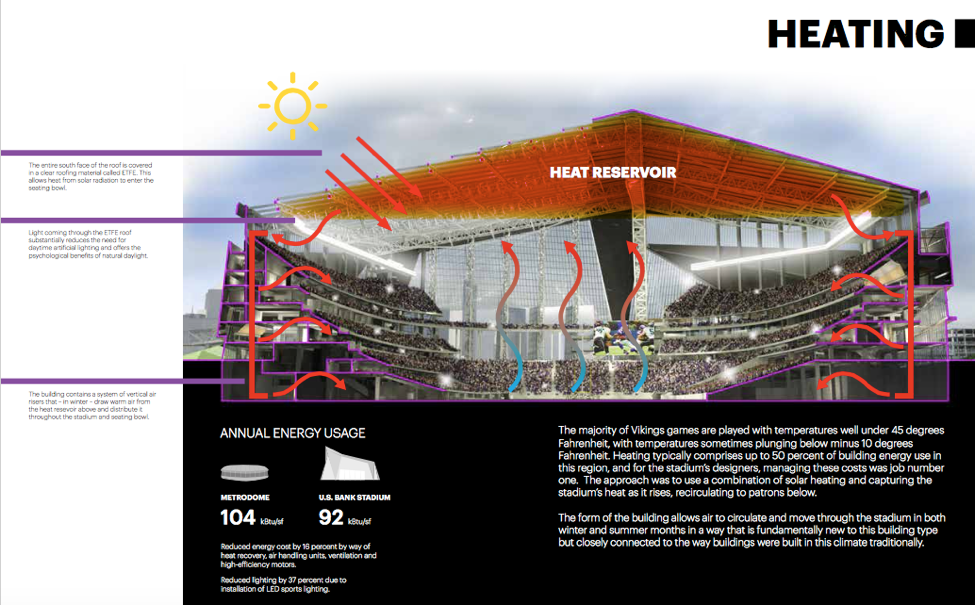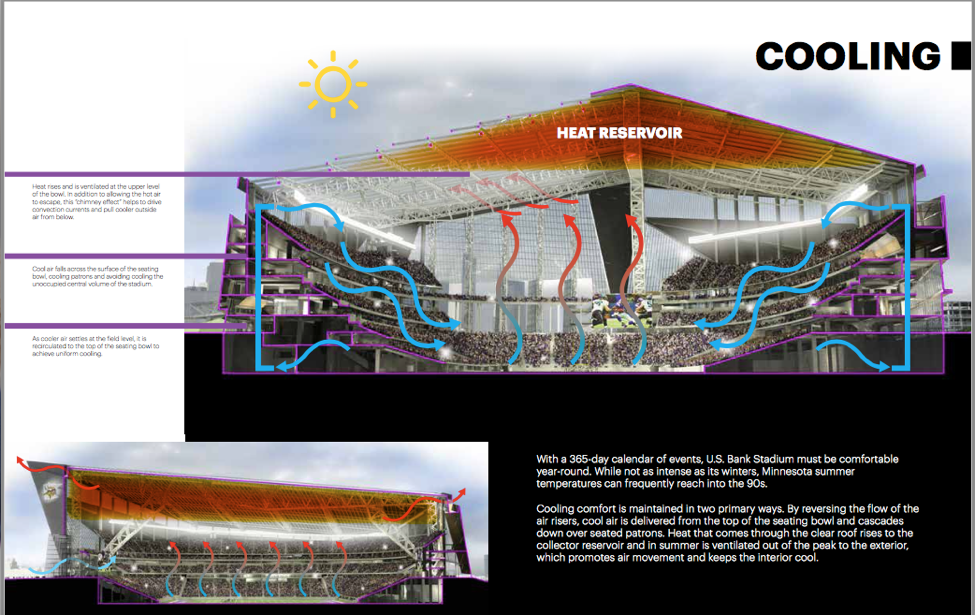 Transportation
On any gameday, where the stadium has more than 70,000 guests, staff, and volunteers, transportation becomes a key component of the equation to reducing the facility's carbon footprint.
Bike Friendly

U.S. Bank Stadium is the first stadium to receive a Bike Friendly Business certification. We are located 1 block away from a designated bike trail, have over 180 bike racks located around the stadium, and the staff participates annually in Bike to Work Day as well as the annual May Bike challenge. By encouraging staff to use this mode of transportation, it not only decreases the amount of pollution from driving to work, but it is excellent form of exercise.

Metro Transit

The stadium can boast being one of the most urban in the country. As a result, public transit options are abundant within a small radius of the stadium. The U.S. Bank Stadium light rail stops offers services to downtown Saint Paul, the Mall of America, the airport, nearly all other major sports facilities, and much more. Besides light rail, there are numerous bus lines available from stops close to the stadium. For more information, please visit metro transit's website at https://www.metrotransit.org. Fairs for the both the bus and light rail are reasonable, and the frequency of services are high ensuring that people do not have to wait to long for service. There are many environmental benefits to taking public transit. It helps minimize single occupant vehicles, which keeps cars off the road and can help lead to less traffic. Per person, energy usage and consumption is much lower than taking a car, and in light rails case, the energy to power the train can be renewably generated.
What you can do to help.
At the Stadium
Water

When performing your work duties: use the minimum amount necessary to perform the work task properly. This includes but is not limited to: filling a mop bucket to a sufficient level, filling up sinks to wash items instead of using running water, and loading dishwashers and laundry washers to capacity to help reduce the number of loads ran.
Overall, the simplest way to reduce water use is to turn off sinks when they are not needed.

Waste - To help reduce waste at the stadium, here are a few things to know to help minimize the waste footprint.

Understand the waste streams and know what can be thrown where.

Refer to waste section to understand the three waste streams.

Follow all waste policies, and hold your team mates accountable for not following them.

All waste corresponds with a specific bag color. Green bags for organics, blue bags for recycling, and white or black bags for trash.
If you do not know where an item is supposed to be disposed of at, throw it in the trash and not organics.

Energy - Here are a few things you can do to help reduce the energy consumption in the stadium:

Turn off lights when you leave an area.
Take the stairs instead of the elevator.
Install power strips to help reduce phantom power use.
Unplug electronics when they are charged and take the plug out of the wall.
Use adequate lighting in your workspace. Often just a few lights a sufficient.

Transportation

Try riding a bike to work once a week. Even riding once a week can yield significant energy savings over time. If you do not own a bike, there are Nice Ride locations located at various points around the stadium where you can rent a bike for as long as you need. Here is a link to their website: https://www.niceridemn.org.
Utilize public transit. It is cheaper than paying for parking and it drops off right at the stadium
Carpool - If you and a co-worker live nearby and share similar schedules, coordinate a carpool. This helps reduce single occupancy vehicles, and it allows you to use the carpool lane.
At Home
Many of the sustainable behaviors you perform at work can be applicable at home as well. Here a few basic items that can reduce your carbon footprint and can also help you save money.
Water

Turn off faucets when not in use.
Load laundry and dishwashers to capacity before use. This helps reduce the number of loads ran over time.
Install aerators on all sinks.
Install low flow bathroom fixtures and appliances.

Waste

Recycle all plastic, aluminum, and paper. Most areas utilize comingled recycling which means you don't have to sort it, this increases convenience.
Purchase reusable items in lieu of disposable products. I.e. buy sandwich Tupperware instead of plastic sandwich bags.
Donate old clothes, household items, old furniture, etc. Goodwill takes many different items for no charge. Here is a link to their website: http://www.goodwill.org.

Energy

Install LED bulbs. These use less energy and last much longer than traditional bulbs.
Turn of lights when not in use.
Dress warm in the winter months to help keep heating costs down, and consider closing your blinds in the summer months to help keep your place cool. Cooling and heating can be very energy intensive and costly.