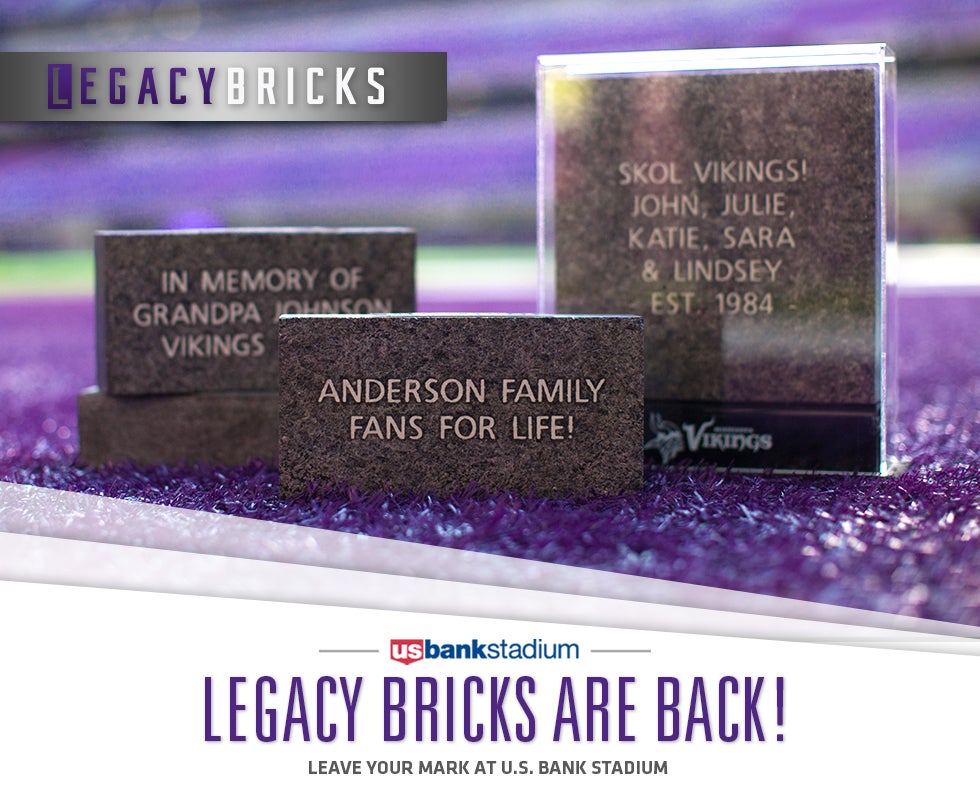 Legacy Bricks are Back!
If you have visited U.S. Bank Stadium recently, you have probably noticed the Legacy Ship on Medtronic Plaza at U.S. Bank Stadium. The Legacy Ship "arrived" in September, giving fans and members of our community their first look at nearly 14,500 Legacy Bricks which showcase 55-plus years of Vikings' fan's memories.
Following the Ship's unveiling, thousands of fans have expressed interest in Legacy Bricks, wanting to leave their mark at this beautiful and historic monument. Thus, we are thrilled to make this opportunity available once again!
Reserve Your Space Today!
There are two ways to order your Legacy Brick:
Online: visit www.vikings.com/bricks to customize your brick's message using our convenient online ordering tool.
By phone: call 844-662-7425, Monday-Friday, 8:00am to 7:00pm CST to speak with a customer service representative.
To accommodate demand for placement in the Legacy Ship, the ship's footprint will be expanded, but available space is limited. All Legacy Bricks will be installed early Summer 2017.
Thank you for your continued support, and we look forward to seeing your name aboard the ship!